What Can You Cook in a PizzaMaster Commercial Pizza Oven?
When considering commercial pizza ovens, there's a common myth that to achieve true traditional pizza, it must be cooked at high temperature in a woodfired oven. But does the perfect pizza really need to be woodfired to be bursting with that old world authentic flavour?
Busy pizzerias, restaurants and takeaways around the globe are busting that myth, as high temperature electric stone deck pizza ovens are exploding in popularity. Loved for the speed and ease of operation, low cost simple install, low operating costs, and their ability to achieve that much-loved crispy charred pizza base and artisan flavour.
We're going to explore the styles of pizzas that you can cook to perfection in as little as THREE MINUTES in PizzaMaster commercial pizza ovens, as well as other foods that might surprise you!
About PizzaMaster Commercial Pizza Ovens:
PizzaMaster are Italian made and owned with the world's largest range of countertop and freestanding electric deck pizza ovens for commercial use.
80 different sizes and over 1,000 possible combinations

[

Fast, high temperature cooking up to 500°C

[

Cook perfect pizzas and pastries in under 3 minutes

[

Effective insulation, low energy consumption (appx 20c p/hr p/deck)

[

Stepless top and bottom heat controls

[

Uniform heat distribution for an even cook

[

Hygienic, easy to clean seamless design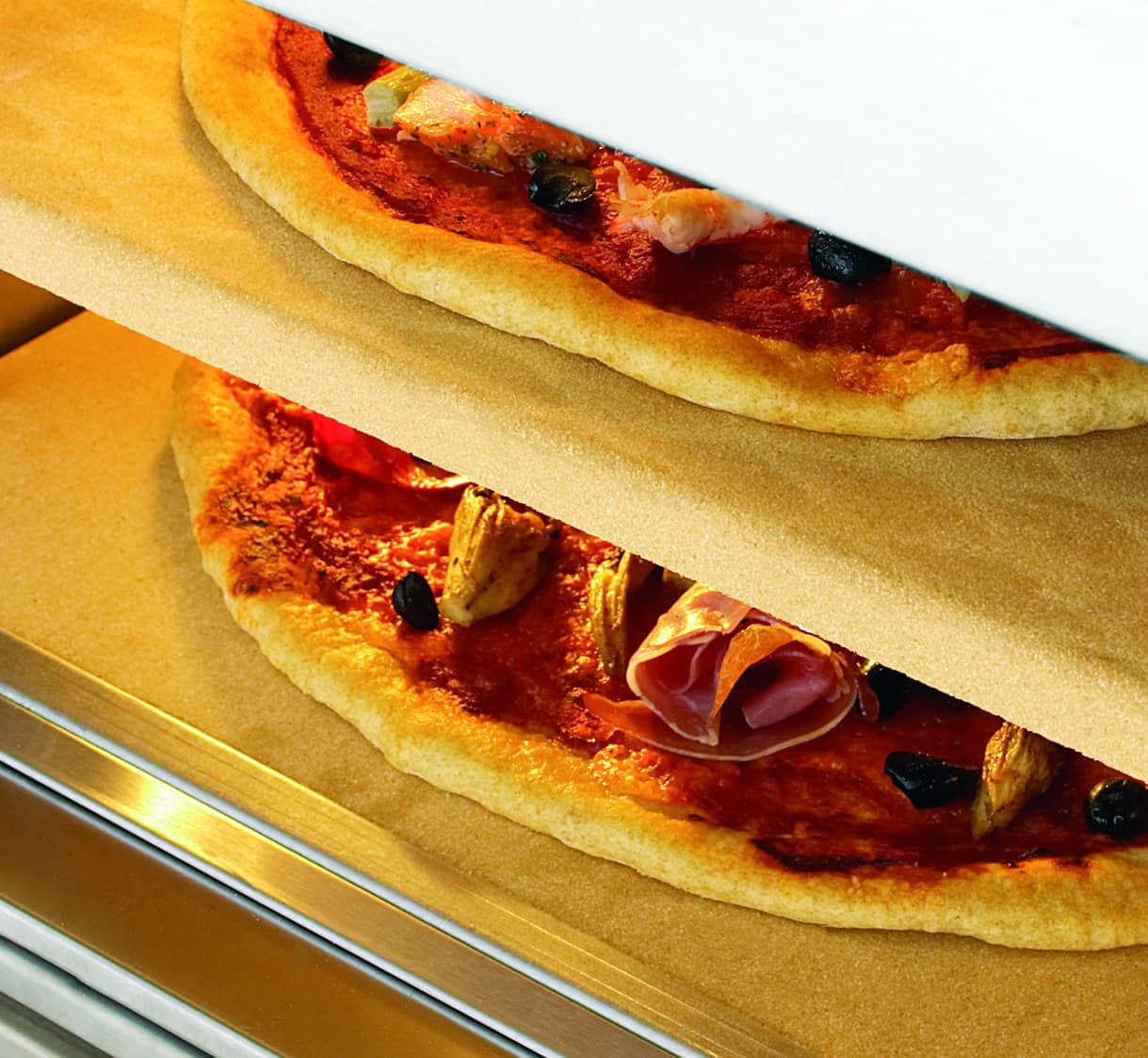 Natural baked clay hearthstone with crisping function
Old-world artisan baking
Baked clay hearthstones crafted with a rough surface provides superior heat transfer for tasty crispy crusts and consistent even cooking. When pizza-makers try the ovens, they always want one.
Styles of Pizza Perfectly Cooked in a Stone Deck Oven
If your business specialises in one or several of the following styles of pizza, the fast and efficient stone deck electric pizza oven is your best friend in the kitchen for greater output, reduced labour and increased revenue. Deliver your customers the flavours they love, in the shortest time possible.
Neapolitan Pizza
The original pizza pioneer dating back to the 18th century in Naples. Italy takes its Pizza Napoletana so seriously there are strict rules in place imposed by the Associazione Verace Pizza Napoletana, as to what actually classifies as an authentic "Verace Pizza Napoletana." Among very particular instructions on crafting the dough, to name just a few essentials…
Baked in a woodfired oven (to achieve fast, high temp baking)
Made with San Marzano tomatoes or Roma tomatoes
Must to use Mozzarella Di Bufala Campana (a specific type of cheese made with milk from the Campania and Lazio water buffalo)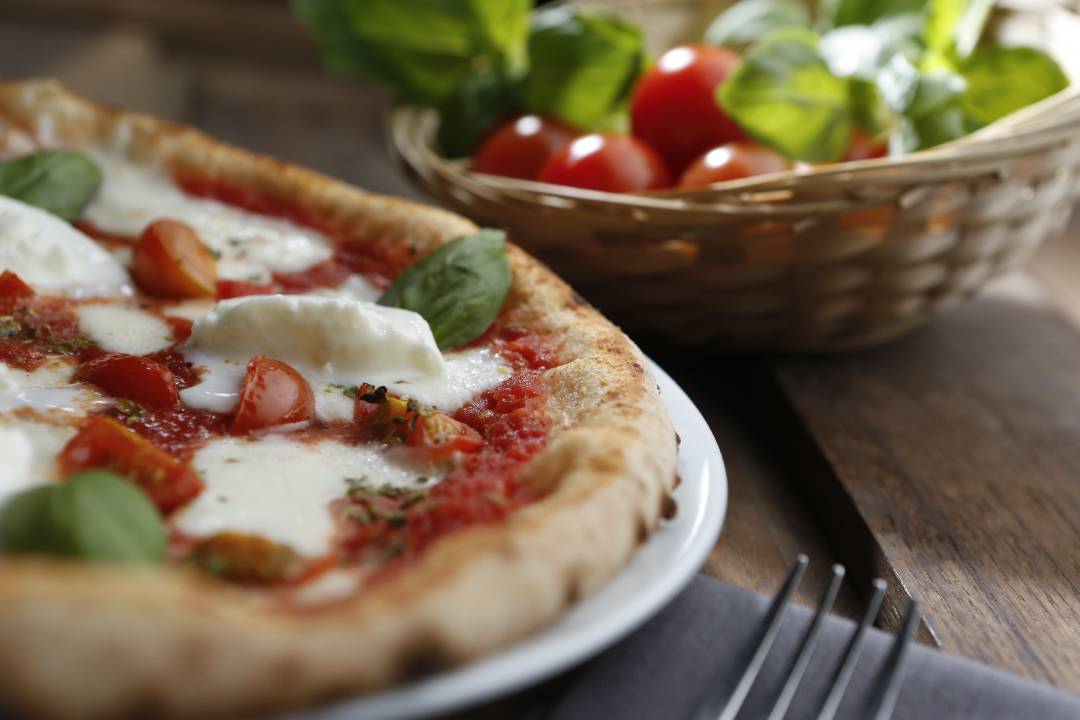 If you're more inclined to serve a tasty
"Neapolitan Style"
pizza utilizing fresh local mozzarella, tomatoes, basil, oregano and olive oil, the most important thing about this thin style of pizza is the authentic base, and even high temperature cooking.
Pizzamaster stone deck ovens love this minimalist style of pizza. With a top temperature of 500°C, and the textured nature of the hearthstone, your pizza emerges cooked evenly and to perfection within minutes – complete with the charred crispy base that is often thought only to be achieved in a woodfired oven.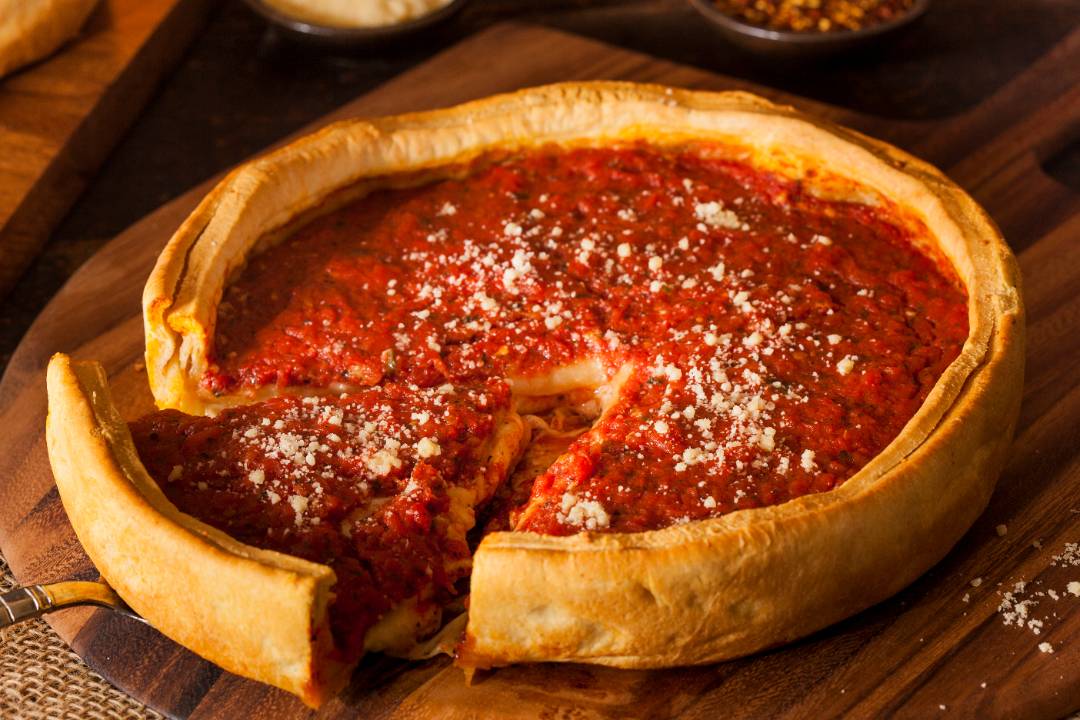 Chicago Deep Dish Pizza
Ike Sewell's original creation of the Chicago Pizza in 1943 led to the now famous chain restaurant Pizzeria Uno. Quite the opposite to the Napoletana, the Chicago has a deep thick pie-like crust with raised edges. Built in reverse, mozzarella lines the dough, ground beef, sausage and pepperoni. Vegetables typically include onion, mushrooms and green peppers, topped by a can of crushed tomatoes. Some pizzerias will finish it off with a sprinkle of parmesan.
Cooked in a thick cake-dish style pan to ensure even cooking, a deck oven is the oven of choice, not woodfired. Cooked at a precise but lower temperature to achieve a crisp buttery crust, and consistent cooking throughout the filling.
New York Style
Ever-growing in popularity in Australia, the New York Style Pizza was borne out of America's first Pizzeria – Lombardi's in 1905. Famous for its characteristically large hand tossed thin dough that forms a crispy crust, but is malleable enough to fold the slices in half to devour it.
Often sold by the slice, traditionally the base is smeared lightly with a rich tomato sauce and covered with lashings of dry, grated full-fat mozzarella. The most popular additional NY Pizza topping is of course pepperoni.
Traditionally cooked in a coal-fired oven, bakers had to be careful not to burn the crust. High temperature cooking is essential for that artisan New York / Italian flavour. PizzaMaster stone deck ovens are the perfect alternative to coal fired for fast, even baking and and perfect crust thanks to the natural baked clay hearthstone with crisping function.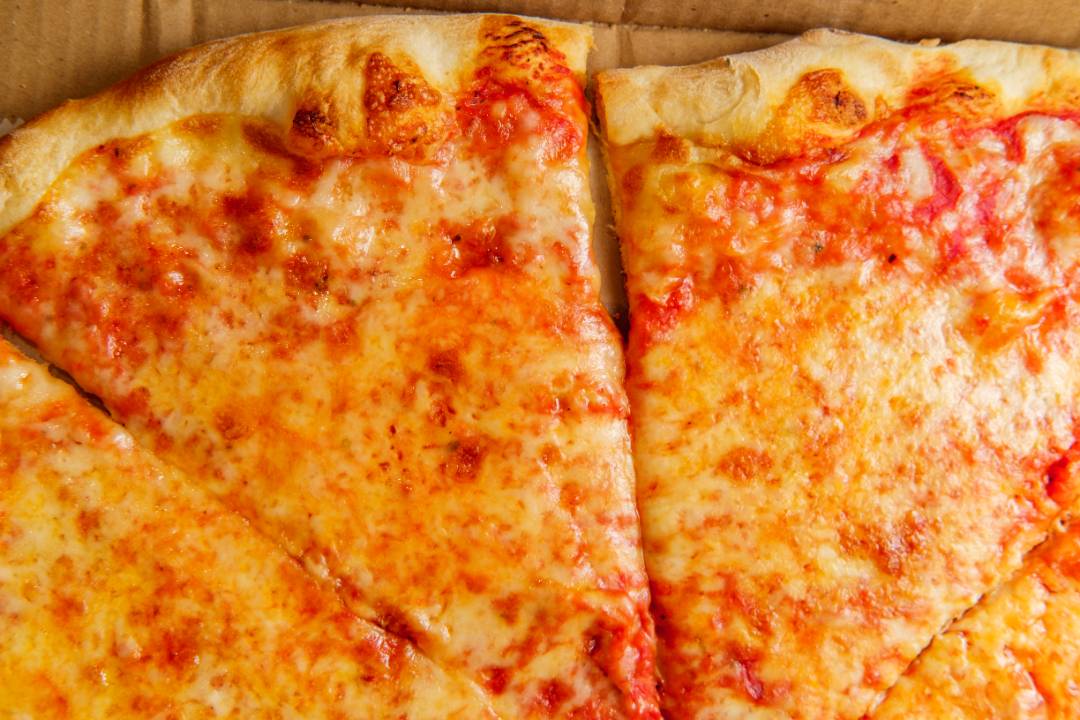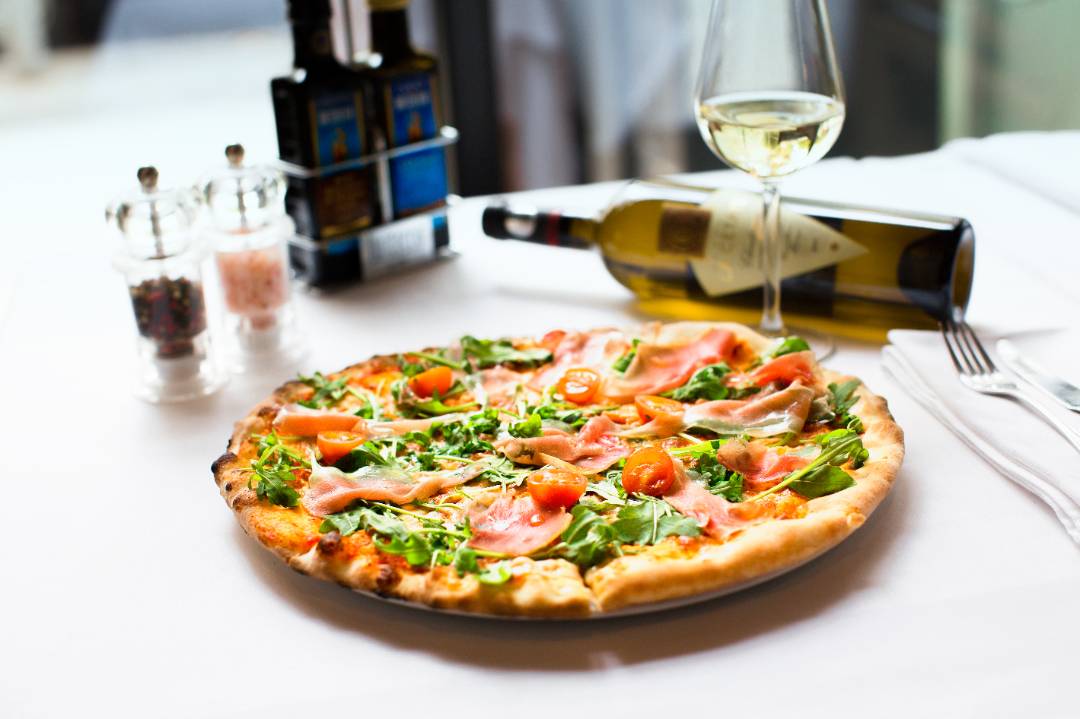 California Pizza (Gourmet Pizza)
In many ways Californian Style pizza is much like the Australian adaptation. We love experimenting with various non-traditional sauces and toppings. Also known as "Gourmet Pizzas" the California is a no-rules, build your own, more modern tradition.
Got leftover tandoori? Put it on a pizza. Bacon, egg and cheese pizza for breakfast? Or Smoked salmon with spinach, feta, capers and pineapple?
Because of the sheer variety of toppings that could arrive at the pizza oven, precise temperature control is important. This can be difficult to achieve in a woodfired pizza oven that may be prone to overcooking some of the more delicate ingredients that can be found on a Californian (or Australian Style) Pizza.
Sicilian Style Pizza
Antonio Mineo, an ancient Sicilian grain selector stated that the Sfincione Bagherese can be considered Sicily's first gourmet dish. In the 1650's, Prince Giuseppe Branciforte di Butera's Monsù cooks reworked an ancient monastery recipe that originally featured bechamel, offal and peas. Their version consisted of Aspra sardines and locally produced Tuma cheese.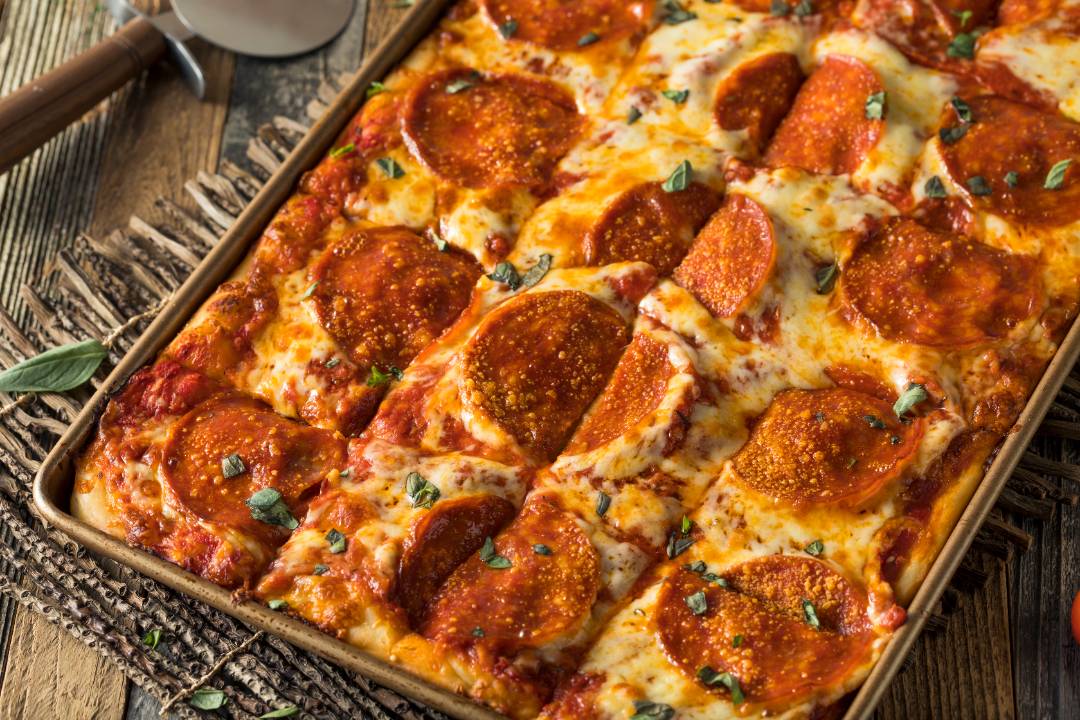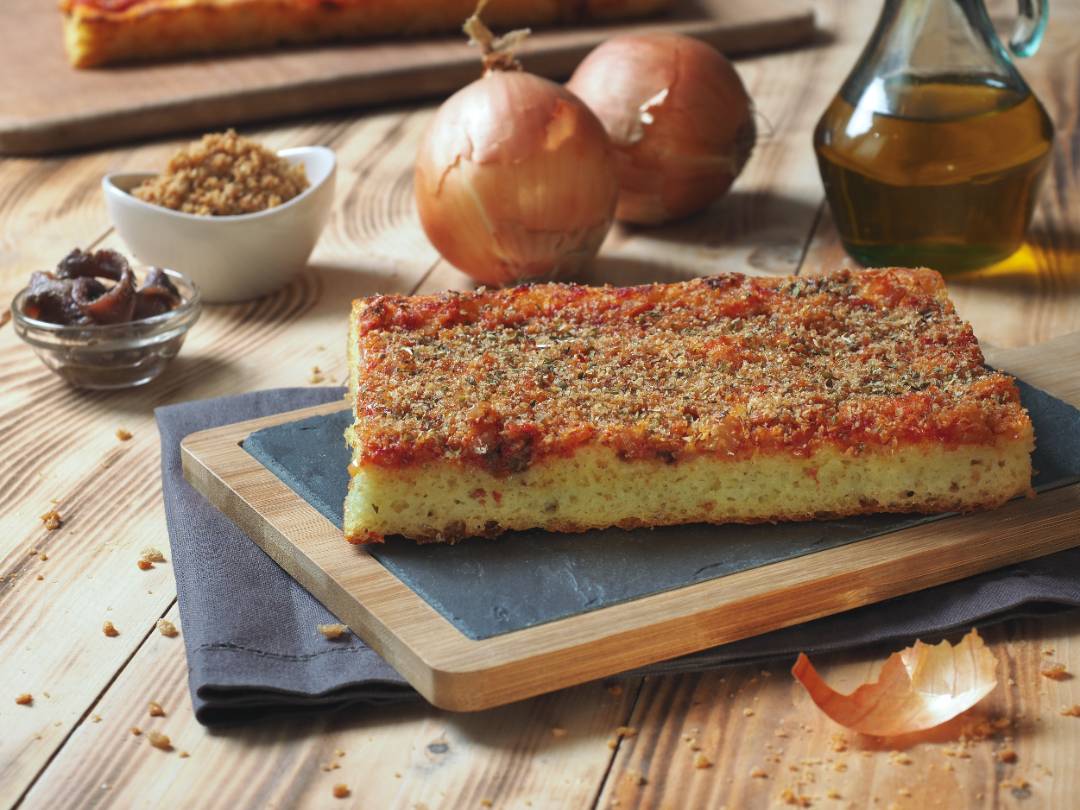 Traditional Sfincione Bagherese
The Sicillian pizza as we know it consists of a thick, pillowy focaccia style dough topped with rich Romano cheese, tomato sauce, garlic, herbs, anchovies and whatever tasty extras you might so desire. Baked in a tray and cut and served in rectangular pieces this style of pizza is very filling and lends itself to catering for larger numbers of people.
Because of the size and sheer thickness of the crust, baking a Sicillian style pizza in a woodfired oven is tricky, the consistent temperature and ease of a deck oven is ideal for this classic family favourite.
Detroit Style
Detroit style pizza is a relative of Sicillian style pizza, first fired up in 1946 by Gus Guerra, owner of popular bar "Buddy's Rendevous." As the story goes, Gus's wife borrowed a dough recipe from her Sicillian mother. The secret to this classic pizza is the pan in which it was cooked – rectangular steel trays from the local Automotive factory. Generous lashings of herbed tomato sauce and Wisconsin brick cheese right to the edges has had Detroit families fighting over the crisp caramelised corner pieces through the decades.
Today the Detroit style pizza is most commonly topped with pepperoni – Another Australian favourite. Just like the Sicilian pizza, the Detroit loves a commercial deck pizza oven for a consistent yet fast cook, perfect crispy base and crunchy cheesy edges to die for.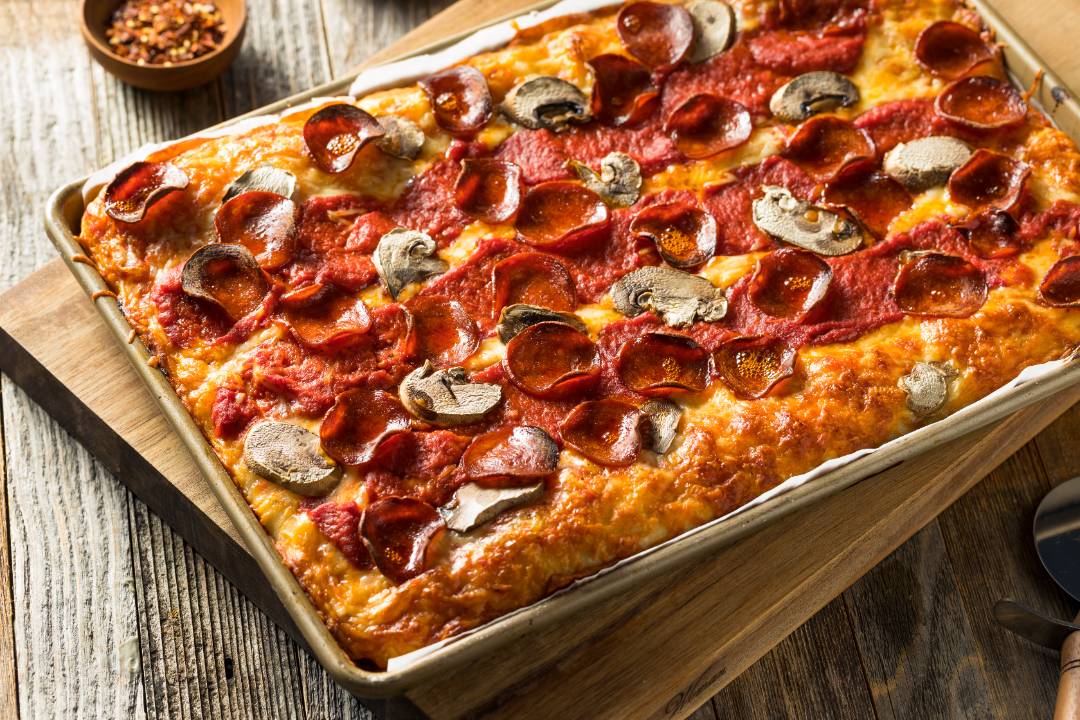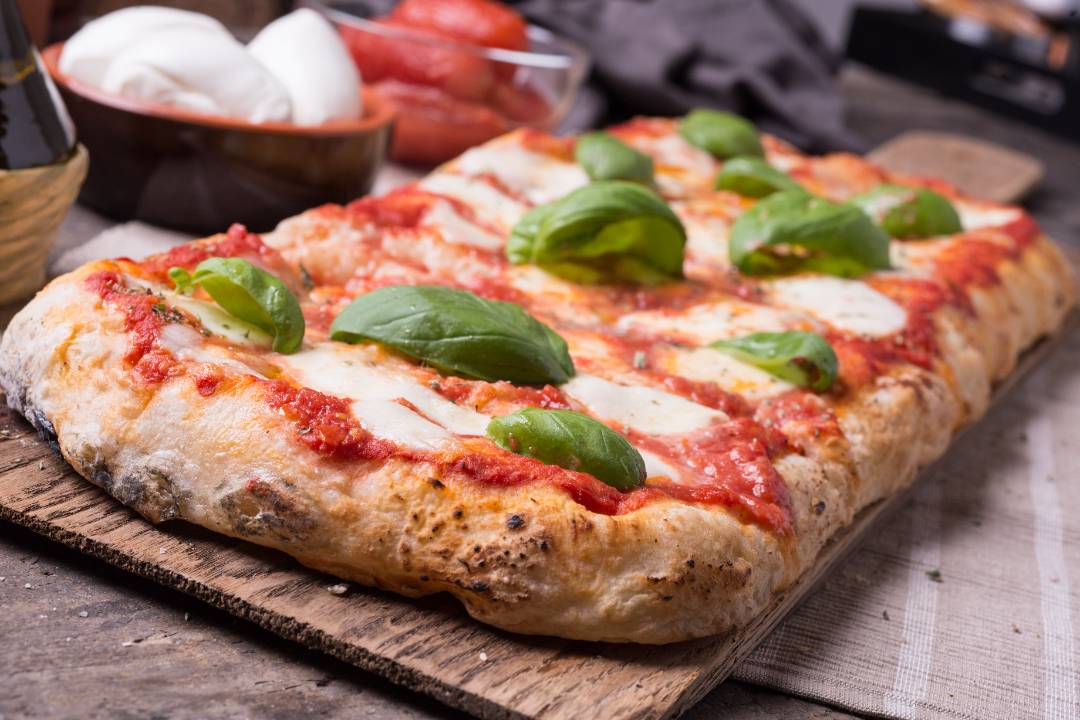 Pizza Alla Pala
The Roman answer to the global pizza craze. Pizza alla pala (or Pizza Romano) is actually named after the distinct wooden paddle it's served upon – the pala. The flatbread dough is made with a high-hydration, long-rising dough and stretched into a long oval or rectangular shape.
Baked in an electric oven, the thick crispy crust should have a light fluffy interior. Toppings may include cherry tomatoes, various cheeses, olives, prosciutto and spicy salami.
Once baked the pizza is transferred to the pala and topped further with fresh herbs and fresh ingredients. This is another pizza commonly sold by the slice and/or designed for groups to share.
Greek Style
Surprisingly, the Greek Pizza was not born in Greece. It originated in Boston in the 1960's, invented by Greek immigrants who put a Mediterranean spin on traditional pizza toppings.
The pizza dough is baked in a heavily oiled pan to achieve a crisp edge and nicely fried bottom crust. The end result is a deliciously chewy base. The sauce is typically heavy on the Oregano, yet not as rich as traditional Italian pizza Sauces.
Topped with ingredients like artichokes, capsicum, kalamata olives, and a mixture of feta, tasty and mozzarella cheeses to withstand the 500°C cooking temps in an electric deck oven. Aussies will be pleased to learn pepperoni is also a common pizza topping.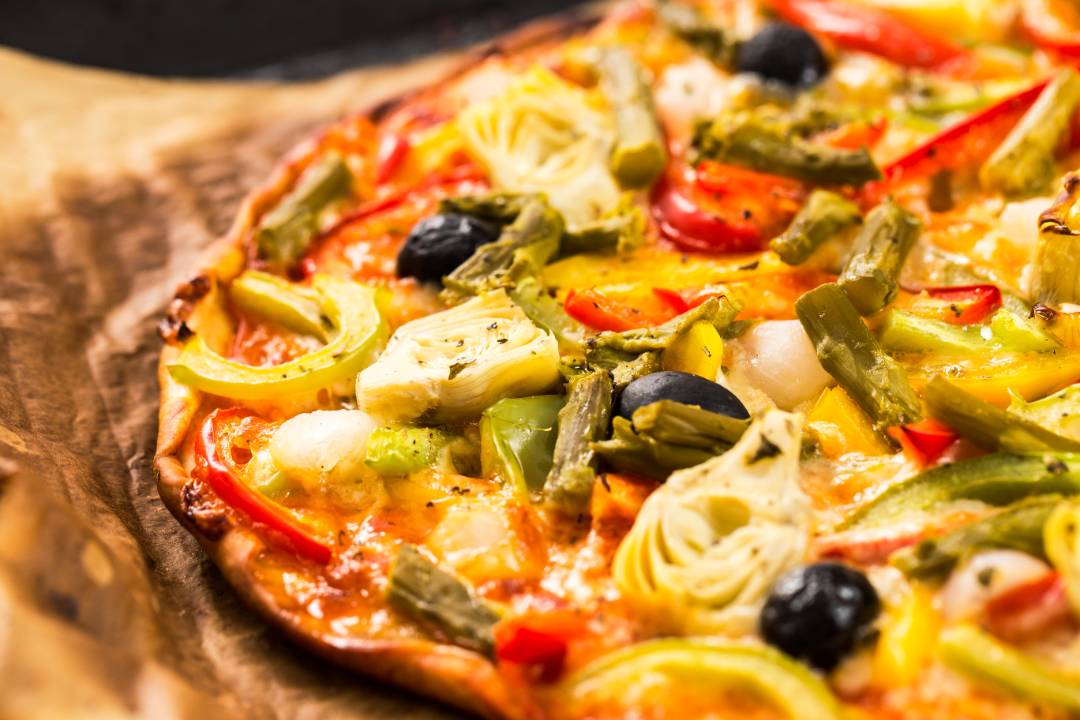 Other Foods that Love the PizzaMaster Ovens
Loved by bakeries, pubs and mobile food outlets, there is a surprising range of dishes that can be cooked or finished at high speed in the PizzaMaster. From Breads, pastries, Calzones and pretzels, to delicate seafood dishes and baked vegetables.
Just look at this example of optimal use of space by one of our favourite customers – pretzelaustralia.com.au. The footprint you can save using two dual stone hearth countertop deck ovens pictured below, rather than four single deck pizza ovens above.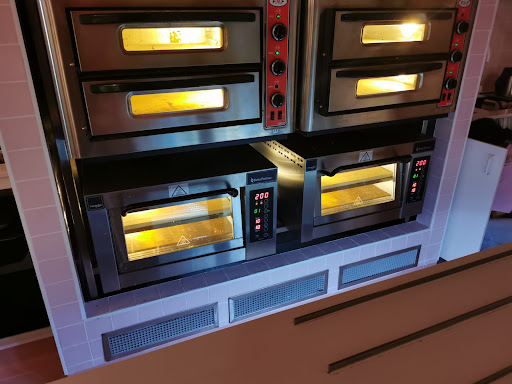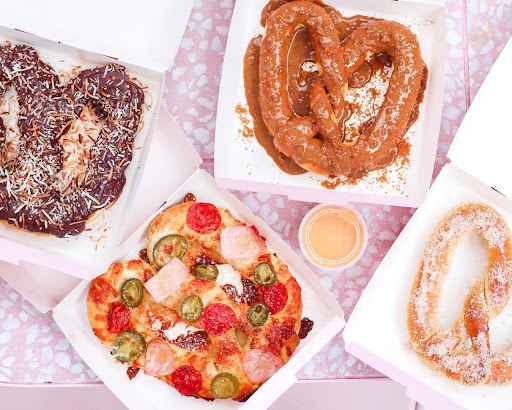 Designed for the Profitable Pizza Place
Food technology is always evolving, whether to increase safety, energy efficiency and productivity, or to save time, space and labour costs. PizzaMaster Commercial Stone Deck ovens achieve all these things and more especially for establishments amping up their takeaway operations and looking to achieve greater output; but without the inflated costs.